Steady state dyno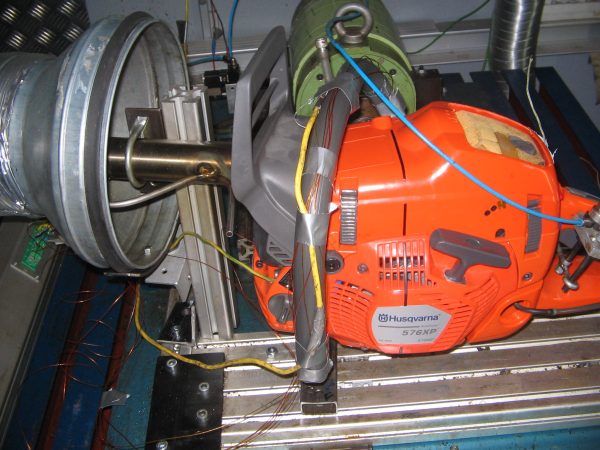 Most engine performance development at BNM Research is done in steady state dyno testing. Small 2-stroke engines like chainsaws and trimmers are run in a test-cell with a vibrometer dyno, where following parameters are logged:
Power
Torque
Speed
Fuel consumption
Special fuel consumption
A/F (calculated with help of CO/CO2 measurements)
Lambda (calculated with help of CO/CO2 measurements)
Temperatures (several channels)
Added to above can be the gas flow and different exhaust emissions, followed by a combustion analysis.
Test rig
As a complement to dyno testing, we offer a number of test rigs for chainsaws and trimmers / brush-cutters. These allow performance studies during transient conditions. Customers can either use our rigs as they are or we can adjust them according to desired specifications.
The GUT-cycle is often used, with a small water dyno on the bar or directly mounted on the crankshaft. The photo shows a simulation of cutting down and de-branching of a tree while the performance of response, free speed and temperatures can be studied.
Pressure transducers can be added for analysis of combustion and gas flow.
Durability tests
The rigs can also be used for durability tests, usually for testing of components and lubricants. Durability tests up to 200 hours can be performed.
Supervising of field tests
BNM Research offers, to a minor extent, supervising of chain saw field tests. Normally it starts with measurements, a short braking in and presetting of the engine in the dyno. Then the saw is handed over to skilled loggers, used to make regular notes. BNM Research makes schedule check-ups during the test period. After the test, BNM Research offers Evaluation / Rating / Photo.